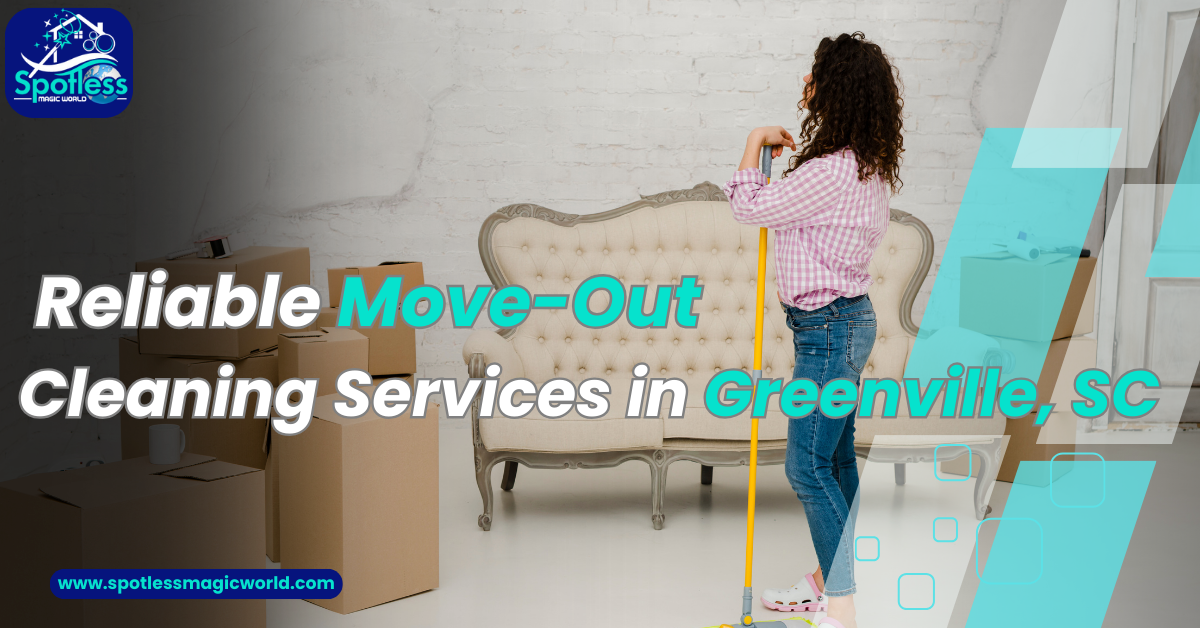 Reliable Move-Out Cleaning Services in Greenville, SC
The process of moving can be a roller-coaster. Between packing boxes, sorting through years of accumulated stuff, decluttering stuff from the previous homes, and setting up utilities at your new place, it's easy to forget the daunting cleaning task. 
But here's the thing- a thorough clean is critical, whether you're saying hello to a new home, bidding farewell to an old one, or both. This is where the undeniable value of professional move-out and deep cleaning services emerges, presenting a lifeline in the sea of relocation chaos.
However, what does move-out or vacate cleaning services Greenville involve, and why should you hire professionals? That's exactly what we'll unpack in this blog. We'll explore the ins and outs of these services and showcase why "Spotless Magic World" is the trusted choice for folks in Greenville, SC.
Definition and Purpose of Move-Out Cleaning
Simply put, move-out or post-tenancy cleaning is a deep, thorough cleaning of your space after you pack your belongings and hand over the keys. It's an intensive process that goes above and beyond regular or spring cleaning, aiming to make the property look as good as new for the next occupant.
The purpose of move-out cleaning services Greenville is to leave the rental property cleaning in an excellent state for the next residential move-out cleaning, fulfilling contractual obligations for renters and potentially aiding in a quick and profitable sale for homeowners. It embodies the principle of leaving a place better than you found it.
Benefits of Hiring Professional Move-Out Cleaners
Moving can be a stressful process packed with numerous tasks. Among these, cleaning is a hefty chore. This is where professional move-out cleaners step in, offering several benefits – 
Hiring professionals ease your burden, saving you time and energy. They bring the right tools and products, cleaning your space efficiently and effectively. You want to get the same reaction or smiley impression of the future tenants as you got from your previous tenants. 
Hence, taking no risks in hiring professionals to make your home looks better for the tenancy is a must before putting your property for rent again. 
Professional cleaners are trained or skilled to maintain high cleaning standards. They tackle stubborn stains and hard-to-reach areas, ensuring a thorough cleaning. The new tenants can be fussier, finicky and more sceptical of finding the most unfindable dust from your property which is not discoverable by you. 
Therefore, professional cleaners with their years of experience and adequate command of advanced equipment can solve that problem right away. 
Most professionals offer tailored services to meet your specific needs. You can opt for a complete move-out clean or specific services like carpet or appliance cleaning.
For renters, a professional cleaning can help ensure the return of your security deposit. They know what landlords inspect during final cleaning services and can focus on those areas.
For homeowners, a professional cleaning can boost your property's appeal, possibly helping it sell faster and at a better price.
Deep Cleaning Services: Ensuring a Spotless Environment 
Deep cleaning for moving out involves a comprehensive and detailed cleaning process that goes beyond everyday tidying. It's not just about making a space look good but creating a healthier, more comfortable environment.
Understanding Deep Cleaning
Deep cleaning is a particular cleaning method that covers hidden and often overlooked areas. It's about reaching into the corners, behind appliances, inside ovens, and under sinks, to remove the unseen dirt and allergens that can accumulate over time.
This extensive cleaning process contributes to a healthier living or working space, reducing potential health issues like allergies or respiratory problems.
Deep Cleaning Areas
Typically, deep cleaning services cover – 
Kitchen:

Inside-out appliance cleaning, stovetop scrubbing, and surface sanitizing.
Bathroom:

Descaling bath areas, sanitizing toilets, sinks, and mirrors.
Bedrooms/Living Areas:

Comprehensive vacuuming and under-furniture cleaning.
General:

All fixtures, windows, doors, and trash cans were cleaned and sanitized.
Advantages of Professional Deep Cleaning
Hiring professionals for deep cleaning has several benefits – 
Expertise:

Professionals provide effective and efficient cleaning.
Time-saving:

Frees up your time for other tasks.
Health:

A deeply cleaned space minimizes allergy risks.
Aesthetics:

A deeply cleaned space looks and feels better.
The Key Features of Reliable Move-Out and Deep Cleaning Services in Greenville, SC
When it comes to finding move-out  cleaning services Greenville, SC, "Spotless Magic World" sets itself apart with its exceptional offerings. Here are the key features that make their services reliable and highly sought after – 
1. Highly Trained Cleaning Staff
The cleaning staff undergoes rigorous training, with the skills and knowledge to handle any cleaning task with precision and professionalism.
2. Usage of Eco-Friendly Products
The company prioritizes using eco-friendly cleaning products that are secure and safe for both people and the environment. This commitment to sustainability ensures a healthier living or working environment.
3. Customizable Cleaning Packages
Recognizing that each client has unique needs, the services offered can be tailored to fit individual preferences and requirements, whether it's a comprehensive move-out cleaning services Greenville.
4. Timely and Efficient Service
The team understands the importance of time and strives to complete cleaning services promptly and efficiently, ensuring your property is ready for its next scheduled phase.
5. Satisfaction Guarantees and Positive Customer Reviews
Customer satisfaction is a top priority, and the company guarantees satisfaction to ensure clients are pleased with the cleaning results. The positive customer reviews received reflect their commitment to delivering exceptional service.
How to Choose the Right Service Provider in Greenville, SC
When selecting  move-out deep cleaning services Greenville, SC, making an informed decision is essential. Here are the key considerations while choosing the service provider for your specific needs –
1. Research and Shortlist Potential Cleaning Companies
Start by conducting thorough research and creating a shortlist of potential cleaning companies in the area. Look for reputable companies with positive customer reviews and a track record of providing reliable, high-quality cleaning services.
2. Evaluate Customer Reviews and Testimonials
Read customer reviews and testimonials about the cleaning companies you're considering. Genuine feedback from previous clients can provide valuable insights into their level of service, professionalism, and customer satisfaction.
3. Check for Appropriate Licenses and Insurance
Ensure the moving cleaning company you choose holds the licenses and certifications to operate legally. Additionally, check if they have appropriate insurance coverage to save you from any liability in case of accidents or damages during the cleaning process.
4. Compare Pricing and Service Packages
Request quotes or estimates from multiple cleaning companies and compare their pricing and service packages. While cost is a factor, try to prioritize value for money rather than solely focusing on the lowest price. Consider the scope of services and the company's reputation when assessing the overall value.
5. Request and Assess Quotes or Estimates
Reach out to the shortlisted cleaning companies and request detailed quotes or estimates for your specific cleaning needs. This will help you evaluate their professionalism, responsiveness, and ability to tailor services to your requirements.
Additional Services Offered by Reliable Move-Out Cleaning Companies
Here are some of the common additional services provided by reputable move-out and deep-cleaning companies – 
Carpet and Upholstery Cleaning
Professionals can revitalize carpets and upholstery, removing stains, dirt, and odors and leaving them fresh and new. Their specialized equipment and cleaning solutions ensure a thorough and effective cleaning process.
Cleaning windows can be a time-consuming and challenging task. Reliable cleaning companies offer window cleaning services, ensuring streak-free, sparkling windows that allow maximum natural light into your space.
Floor Polishing and Restoration
Whether you have hardwood floors, tile, or other types of flooring, professional cleaning companies can provide floor polishing and restoration services. They have the expertise to bring back the shine, remove scratches, and restore the beauty of your floors.
If you're dealing with mold or stubborn grout stains, professional cleaners have the knowledge and tools to tackle these issues. They can safely remove mold and mildew and deep clean and restore grout, leaving your bathroom or kitchen fresh and hygienic.
Reliable cleaning companies understand the importance of a clean and fresh-smelling space. They offer services to eliminate unpleasant odors, using specialized techniques and products to improve indoor air quality and create a more inviting environment.
Some cleaning companies go beyond the basics and offer additional services like move-in, regular, occasional, special events, pre-move-out cleaning, and post-move-out cleaning. These options allow you to maintain a clean and organized space beyond the move-out or deep cleaning process.
Wrapping Up
To ensure a seamless and spotless moving experience, "Spotless Magic World" in Greenville, SC, is your ultimate cleaning partner. With their expertise, eco-friendly practices, and commitment to customer satisfaction, they go above and beyond to exceed your expectations. So, take the first step towards a hassle-free move and embrace a fresh start with professional move-out cleaners. 
FAQs
Q. How Far in Advance Should I Book Move-Out Cleaning?
It is recommended to book move-out cleaning services to ensure your preferred date and time. Booking a few weeks in advance is advisable, especially during peak moving seasons. However, if you need end-of-lease cleaning on short notice, reach out to cleaning companies to check their availability.