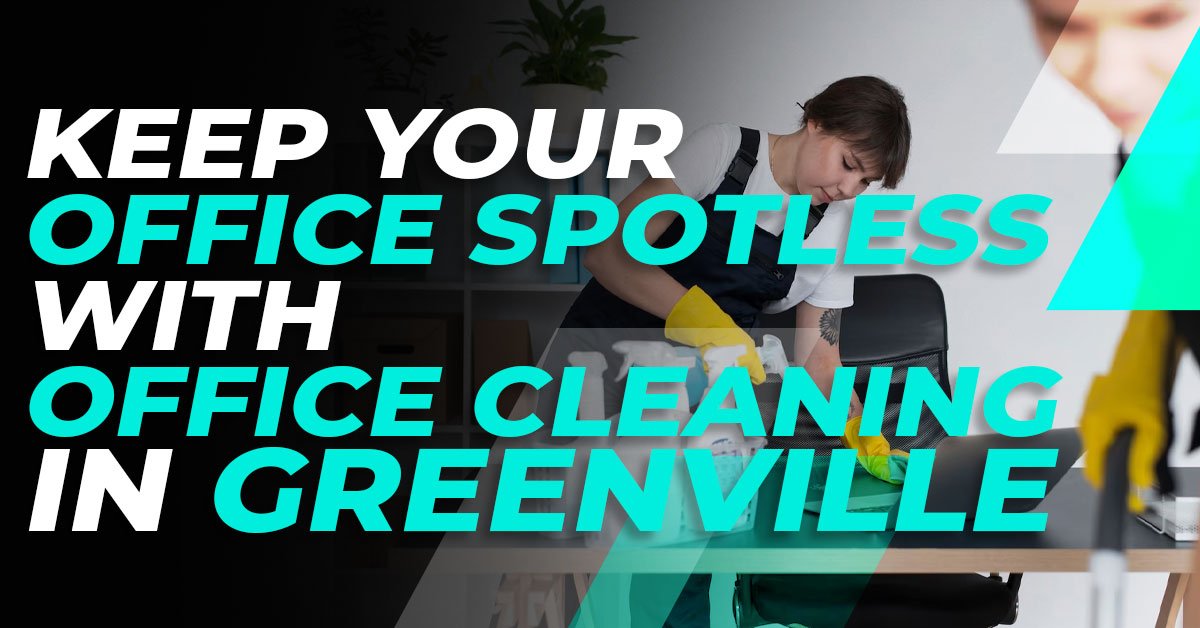 Keep Your Office Spotless with Professional Office Cleaning Service in Greenville
A clean office environment is essential for maintaining a productive and professional workspace. However, with so much going on in the day-to-day operations of your business, it can be challenging to keep up with the cleaning tasks. Also, many no-nonsense bosses tend to overlook focusing on the cleaning aspects in the office, leaving the employees to put up with a messy environment that often leads to unproductivity in their work. 
The commercial cleaning sector in Canada generates approximately $9 billion in revenue on a yearly basis.. This is because hiring a professional commercial cleaning service may completely transform your cleaning routine. 
In this blog, we'll explore the importance of maintaining a clean office environment and the benefits of hiring professional office cleaning services in Greenville, SC. 
We'll also provide tips on selecting the right commercial cleaning company, from researching and evaluating local cleaning companies to reading customer reviews and testimonials.
Importance of Maintaining a Clean Office Environment
Hiring a professional office cleaning company that offers commercial cleaning services helps maintain a clean office environment. 
It promotes good health by reducing germs and bacteria and improves employee morale and productivity while creating a positive image for visitors and external stakeholders, increasing the chance of more investment. Regular cleaning ensures prolonged equipment life.
Benefits of Hiring Professional Office Cleaning Services in Greenville
Professional office cleaning services in Greenville offer numerous advantages when maintaining a clean and healthy office environment. With years of experience in commercial cleaning, they provide customized cleaning services to cater to each business owner's unique needs. 
From eco-friendly and biodegradable disinfection services to deep cleaning procedures, such as floor stripping, carpet cleaning, power washing, and window cleaning, professional cleaners ensure customer satisfaction with their attention to detail.
Choosing the Right Commercial Cleaning Company
Selecting a professional commercial cleaning company with years of experience, impeccable customer satisfaction records and the use of eco-friendly and biodegradable chemicals is crucial. Consider their pricing structure before making a final decision.
Researching and Evaluating Local Cleaning Companies
Check online reviews and ratings to get insight into reputation and service quality. Evaluate services and pricing structure to ensure they align with your cleaning needs and budget. Lastly, consult top contenders to assess their professionalism and communication skills.
Factors to Consider When Selecting A Reliable Service Provider
Select a company with years of experience providing commercial cleaning services that have received positive reviews from previous customers. Make sure they offer custom cleaning services based on your specific cleaning needs and use eco-friendly and biodegradable chemicals for disinfection. 
Also, ensure they provide deep-cleaning services, such as carpet cleaning and floor stripping using professional-grade equipment. Get a detailed quote with no hidden fees.
Reading Customer Reviews and Testimonials
Positive ratings and comments indicate a reliable and professional commercial cleaning company specializing in custom cleaning services such as office organizing and decluttering, carpet cleaning, floor stripping, power washing, office window cleaning, and restroom sanitation. Contact former or current clients for personal recommendations.
You can also check out the testimonials or various cleaning listed sites where the ratings about those companies can help you select the right providers. Be sure to authenticate the genuine review, not a custom-made anonymous testimonial.  
Essential Cleaning Tasks for a Sparkling Clean Office
To achieve a clean office space, performing essential cleaning tasks like regular floor cleaning, electronics dusting, and office sanitation services is important. Successful businesses choose eco-friendly office cleaning companies for their unique custom cleaning services.
Daily Cleaning Routines and Maintenance
Regular office maintenance and cleaning tasks are necessary to keep an office absolutely spotless and maintain hygiene. These tasks include emptying trash cans, wiping surfaces, and sanitizing high-touch areas like keyboards and door handles. Deep cleaning of carpets and dusting helps ensure hygiene and remove grime. It's crucial to have a well-planned cleaning schedule in place for the effective execution of these tasks.
Deep Cleaning Procedures for a Thorough Office Cleanse
Disinfecting high-touch surfaces like doorknobs and keyboards and implementing office carpet cleaning and floor waxing will remove dirt and grime buildup. Regular office deep cleaning contributes to healthier workspaces and boosts employee productivity.
Specialized Cleaning Services for Specific Areas
For a sparkling clean office space, you need specialized cleaning services that will serve specific areas, such as carpets and windows well. 
Experienced commercial office cleaners use biodegradable chemicals for custom cleaning services, ensuring customer satisfaction. Hire a commercial building cleaning service provider for a clean office environment that boosts productivity.
Creating a Cleaning Schedule
Maintaining hygiene in an office space requires creating a cleaning schedule that determines the frequency of commercial cleaning tasks. Assigning responsibilities to a cleaning service ensures consistent results, while regular disinfection services eliminate germs and promote customer satisfaction.
Importance of a Well-Planned Cleaning Schedule
Regular office furniture cleaning is essential to maintain a clean and hygienic work environment for the employees. A well-planned cleaning schedule eliminates confusion and ensures everyone knows their tasks. Regular cleaning prevents grime buildup, promoting a spotless office space.
Designing an Effective Cleaning Schedule for Your Office: Tips and Tricks
Designing an effective cleaning schedule for your office can be daunting, especially if you have a large workplace. However, keeping your office space clean and hygienic is essential to ensure employee productivity and customer satisfaction. 
Outsourcing office janitorial services to a reliable commercial cleaning company that offers workplace cleaning services, corporate cleaning solutions, and business cleaning services can help you achieve a spotless and organized workspace.
Collaborating with the Cleaning Company to Establish a Routine
Collaborating with a professional commercial cleaning service provider is crucial when establishing a routine. They can help design a customized cleaning schedule considering office size, number of employees, high-traffic areas, and task frequency. 
Incorporating specialized cleaning services with carpet or window cleaning can also enhance the overall cleanliness of your workspace.
Advantages of Outsourcing Office Cleaning
Outsourcing your office cleaning needs to a professional commercial cleaning company offers several benefits. In addition to time and cost savings, outsourcing leads to enhanced productivity, improved employee morale, and access to specialized equipment and expertise. 
Time and Cost Savings for Businesses
Outsourcing your office cleaning needs is a cost-effective solution. By entrusting the cleaning responsibilities to a reliable commercial cleaning company, spending less on cleaning products is one way to free up resources for other, more important projects.
Enhanced Productivity and Employee Morale
Maintaining a clean and hygienic workspace creates a welcoming environment that promotes employee productivity and improves overall work performance. 
Outsourcing workplace, corporate, and business cleaning services to a professional cleaning company ensures that your employees are consistently motivated, leading to improved morale.
Access to Professional Expertise and Specialized Equipment
Outsourcing office cleaning needs means having access to professional expertise and specialized equipment. Partnering with a commercial cleaning company that provides janitorial services and green cleaning solutions for offices ensures that your workspace is cleaned correctly and thoroughly using the latest techniques and equipment.
Wrapping Up 
Outsourcing office cleaning is vital for maintaining a clean and organized workplace while saving time and money. Collaborating with Spotless Magic World LLC for janitorial services, corporate cleaning solutions, and business cleaning services can help you achieve a spotless and hygienic workspace to fit your specific cleaning needs. 
Contact us now to schedule a consultation and learn more about our customizable workplace cleaning services.