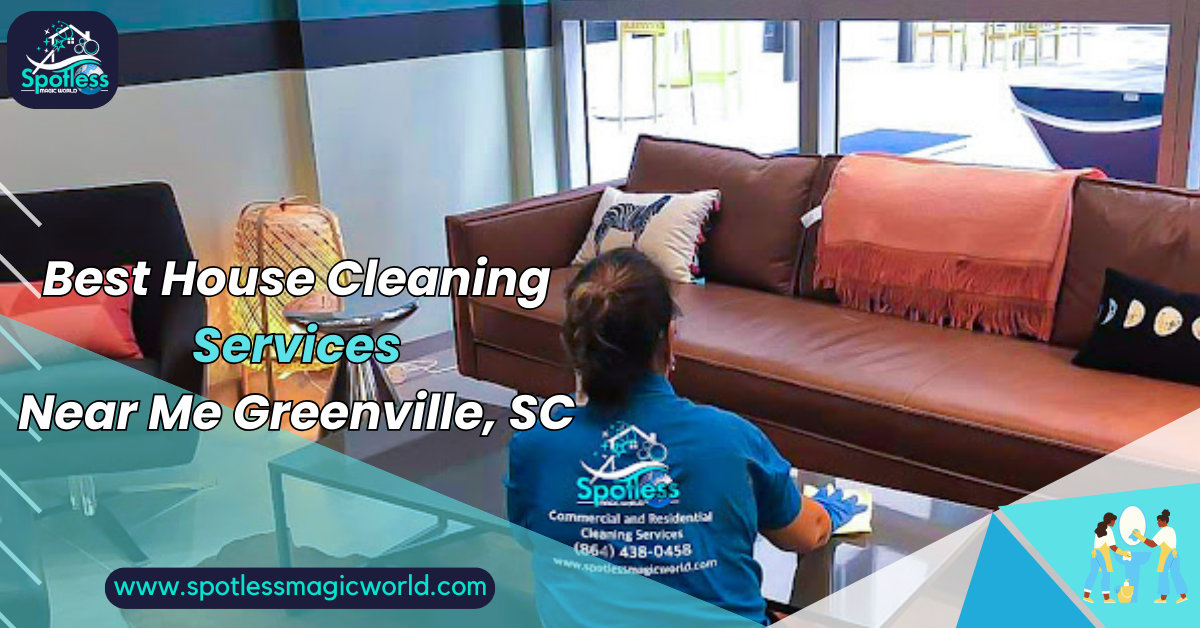 Best House Cleaning Services Near Me Greenville, SC
To maintain a clean and organized home, many homeowners in Greenville, SC, turn to professional house cleaning services. Hiring house cleaning professionals has become a growing trend. Most of the homeowners in the United States now rely on professional cleaning services to keep their homes tidy. And why not? With their expertise, efficiency, and attention to detail, it's no wonder that more and more people are entrusting their cleaning needs to the pros.
In this blog, we will explore why finding the best house cleaning services near me in Greenville, SC, is an absolute game-changer. We'll uncover the hidden benefits, reveal insider tips, and guide you through the process of selecting the perfect cleaning company that aligns with your needs and preferences.
Benefits of Finding the Best House Cleaning Services in Greenville, SC
Keeping your home clean and well-maintained is crucial for creating a healthy and comfortable living environment. However, the demands of modern life can often leave us with little time or energy for thorough cleaning. This is where professional house cleaning services come to the rescue. By entrusting your cleaning needs to experts, you can enjoy the following benefits:
Time and Energy Savings:

A reputable house cleaning company can handle the time-consuming cleaning task, allowing you to focus on other priorities in your life.
Clean and Disinfected Home:

Professional cleaners use industry-standard cleaning products and techniques that will not only ensure your home gets clean but also properly disinfected, promoting a healthier living space for you and your family.
Expertise and Attention to Detail:

Cleaning professionals are trained to clean every corner of your home, paying attention to even the smallest details, leaving your home spotless and gleaming.
Customized Cleaning Plan:

The best house cleaning services in Greenville, SC, will work with you, hear about your complaints, note down your requirements, and develop a customized cleaning plan that meets your unique needs and preferences. This means that you can get the exact cleaning services you need, whether it's basic house cleaning or deep house cleaning.
Importance of Hiring Professional House Cleaning Services
Keeping your home clean and disinfected is crucial for maintaining a healthy living environment. However, many people find it challenging to keep up with regular cleaning tasks due to busy schedules and other commitments. That's where professional house cleaning companies come in; They have the expertise, experience, and equipment needed to clean your home effectively and efficiently. 
Moreover, professional house cleaning companies use high-quality cleaning products and tools that are safe for your family and pets. They also know how to clean different surfaces and materials without causing damage or leaving residue. By hiring a professional house cleaning service, you can ensure that your house is cleaned professionally and at a high standard.
Factors to Consider When Choosing House Cleaning Services
To find the best house cleaning services near you, it's important to consider the following factors:
Reputation and Customer Reviews:

Research the reputation of the cleaning companies you are considering. Read customer reviews and testimonials to gauge their level of customer satisfaction.
Services Offered:

Determine the range of services offered by each cleaning company. Whether you require regular cleaning, deep house cleaning, or specific cleaning plans, ensure the company can meet your specific needs.
Pricing and Affordability:

Compare the pricing structures of different companies. Look for transparency in pricing, including any additional costs for extra services. Consider your budget and find a service that offers a good balance between cost and quality.
Availability and Scheduling Options:

Check the availability of the cleaning services and their flexibility in scheduling appointments. It's important to find a company that can accommodate your preferred cleaning frequency and time slots.
Comparing House Cleaning Services
When comparing different house cleaning services, consider the following aspects:
Pricing and Packages:

Compare the pricing structures and packages offered by different providers. Look for any additional benefits or discounts they may offer.
Service Quality and Attention to Detail:

Assess the quality of service by reading customer reviews and testimonials. Look for companies that prioritize attention to detail and go the extra mile to ensure customer satisfaction.
Additional Services Offered:

Some house cleaning companies provide additional services such as organizing, window cleaning, or carpet cleaning. If you require these services, consider a provider that offers them.
Customization Options:

Determine whether the cleaning company can tailor their services to your specific needs. Flexibility and customization can ensure that your house cleaning plan aligns perfectly with your requirements.
Tips for Choosing the Right House Cleaning Service
To make an informed decision, follow these tips when selecting a house cleaning service –
Assess Your Cleaning Needs:

Evaluate the size of your home, the specific areas you want to be cleaned, and any additional cleaning requirements you may have, such as deep cleaning or specific cleaning products.
Requesting Quotes and Comparing Prices:

Obtain quotes from multiple cleaning companies and compare them while considering the services included in each package.
Checking for Licenses and Insurance:

Ensure that the cleaning company is properly licensed and insured. This protects both you and the cleaning company in case of any accidents or damages during the cleaning process.
Interviewing Cleaning Companies:

Take the time to interview potential cleaning companies. Ask about their experience, training, and the process they follow when cleaning homes. This will help you judge their professionalism and expertise.
Reading and Understanding Terms and Conditions:

Before finalizing your decision, carefully read and understand the terms and conditions of the cleaning service. Pay attention to cancellation policies, satisfaction guarantees, and any other important details.
Final Thoughts
Finding the best house cleaning services near you in Greenville, SC, is essential for maintaining a clean and healthy living environment. When choosing a house cleaning service, consider factors such as reputation, services offered, pricing, and availability. Compare different companies based on pricing, service quality, additional services, and customization options. Don't forget to assess your specific cleaning needs and request quotes from multiple providers.
By following these tips and guidelines, you can make an informed decision and select a reliable and trustworthy house cleaning service that meets your requirements.
Investing in professional house cleaning services not only enhances the cleanliness and hygiene of your home but also contributes to your overall well-being. Enjoy the benefits of a clean and well-maintained home, and leave the hard work to the house cleaning pros.
Choose the best house cleaning services near you in Greenville, SC, and experience the joy of coming home to a clean and refreshed living space.