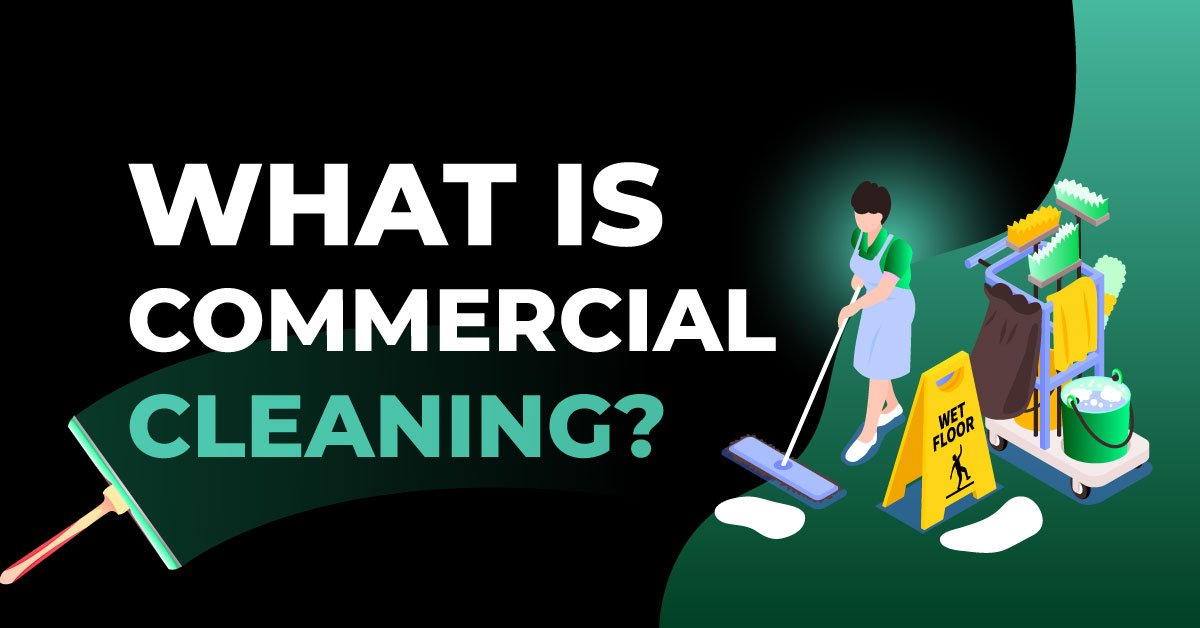 What Is Commercial Cleaning?
One crucial thing the COVID-19 pandemic has taught us is- how fast bacteria can be transferred from one surface to another. Moreover, how critical it is to maintain a clean environment, especially when it comes to ensuring the sanitization of a company or organization. However, there is a specific cleaning solution for every spill and mess.
Commercial cleaning is one of the cleaning solutions that deal with non-domestic needs. It is typically done by professional cleaners trained in effective cleaning and have all the required equipment or cleaning products. They get hired by offices, hotels, hospitals, gyms, leisure centers, etc., to ensure the adequate sanitization of that organization.
Types of Commercial Cleaning
Whether you want to clean or maintain the hygiene of your office, hotel, school, or warehouse, commercial cleaning can provide services according to your needs. There are different types of commercial cleaning services. And commercial cleaning companies offer their services according to the type of business. Here are a few types-
Housekeeping for Hotels:
Hotel housekeeping is about representing a clean, sanitized, and welcoming environment at all times. Daily hotel housekeeping tasks are- cleaning dust, dirt, smells, etc., from guest's rooms, upkeeping the corridors, sanitizing bathrooms, removing rubbish from the room, cleaning and vacuuming the carpets, making beds etc.
Office Cleaning:
Office cleaning means keeping the office place clean and tidy to improve work productivity and maintain hygiene. The tasks are – vacuuming the carpet, mopping the floor, dusting desks, removing recycling and trash from beans, disinfecting the doorknobs, keyboards, computer mouse, and many more.
Medical Facility Cleaning:
A medical premise is the place where every piece of equipment and furniture are kept and needs to be cleaned and disinfected properly, from the waiting room to the operating room, including mopping and scrubbing the floor, cleaning bathrooms, sanitizing the patient room, disinfecting all the beds, chairs, counters, sinks, faucet fixtures, etc.
Industrial Cleaning:
Factories or manufacturing industries always need commercial cleaning services to maintain their hygiene because heavy-duty machinery needs to be kept clean. For that reason, cleaners need to be highly trained while equipped with appropriate cleaning equipment. Types of commercial cleaning for industrial services are-, deep cleaning, janitorial supplies, graffiti removal, floor cleaning, kitchen cleaning, etc.
Sports and Leisure Cleaning:
Sports and leisure cleaning include equipment sanitization, changing room, and swimming pool sanitization. These places experience massive gatherings of people . Thus, it should be clean and hygienic.
Window Cleaning:
The window is the first thing everyone notices from outside a building, representing the building's professional outlook. Hence, cleaning the window both in and out adds another embellishment to your corporate offices, enhancing your building's landscape.
Differences between Domestic and Commercial Cleaning
It may seem on the surface that domestic and commercial cleaning are the same, but it's not. Domestic cleaning means cleaning the household chores around the small residential area performed by one cleaner. On the other hand, It is performed by trained cleaners in larger areas, like companies or organizations. However, let's explore some of the main differences-
Coverage Area
Coverage area is the main difference between these two cleaning services. Domestic cleaning deals with small residential spaces. On the other hand, commercial cleaning deals with large spaces, like organizations, offices, hospitals, etc. Domestic cleaning areas are smaller in terms of commercial cleaning areas.
Cleaning Materials, Tools, and Devices
Commercial cleaning needs powerful cleaning equipment, tools, and devices, like a large vacuum cleaner, a huge floor polisher, etc., to cover a large area. In contrast, domestic cleaning doesn't need powerful tools, like commercial cleaning.
The Expertise of the Cleaners
Expertise is the game-changer here. Usually, commercial cleaners are qualified and trained in operating cleaning equipment. Domestic cleaners, on the other hand, are not always trained.
Justified Pricing
Regarding pricing, household cleaners are less time-consuming and money grabbing than commercial cleaners. When it comes to domestic cleaning, it will cost only around $20 an hour, while commercial cleaners can start at $45 per hour and further go up to $75.
[table id=2 /]
Source: Tasks involved in Commercial vs. Residential cleaning.
The Duties and Responsibilities of a Commercial Cleaner
The cleaning industry has grown by 6.6% every year since 2011. Commercial cleaners are different from general cleaners; commercial cleaning is undertaken by professional cleaners who are highly trained in the commercial cleaning section and have all the necessary cleaning arrangements. Commercial cleaners have various responsibilities, and some of them include but are not limited to –
General cleaning in and around residential office buildings
Deep cleaning
Cleaning floors, dusting, mopping, vacuuming carpets, spot removing from glass and windows
Using cleaning machinery
Maintaining the sanitation of the equipment and supplies
Moving furniture
Ensuring overall work health and safety
Restocking the dispensers, emptying or removing the trash
Picking up the large objects from the floor
Transporting dirty linens to the correct area for the cleaning

How Important Is Commercial Cleaning?
People spend almost 40 hours per week at their workplace, sometimes more. Therefore, bacteria thrive in office environments because this is where people spend most of their day. However, no matter what business you have or are in, every business needs to keep its buildings clean to ensure health and safety in the office environment. Here are some benefits of commercial cleaning-
Relieve pressure and increase employee productivity
Healthier work environment
Represents a professional work appearance
Reduce the spread of disease and prevent damage
Reduce the chances of hazards and emergencies
Reduce frequent sick leaves

Why Should You Get Commercial Cleaning Services?
If you're a company owner or running any organization, let us inform you about new research revealing that an office desk contains 400 times more germs than an office toilet. Apart from that, one more concerning thing is that, 80% of flu cases get spread by touching contaminated surfaces and by direct human contact.
So, evidently, when there are more germs in any building, there is more risk of getting sick, prompting more employees to take sick leave. So, you have to keep your organization sanitized and clean for the sake of your office's overall safety.
And, you cannot clean your office or your organization's building by yourself. Therefore, you should hire professional commercial services to keep your office environment healthy.
Final Verdict
Any organization should employ commercial cleaning services for their office premises. There are so many commercial cleaning services to choose from, so you will find them easily in your location. And depending on your requirements, those cleaning services can take care of your problem. If you think commercial service will cost you, it won't. Rather, ensuring the healthy environment of your organization will save you both time and money.