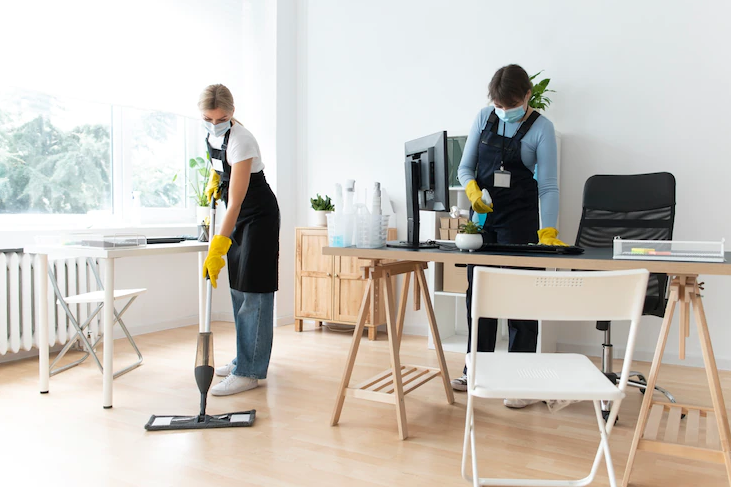 What Cleaning Services Every Business Needs as Part of Commercial Cleaning
Commercial facility managers have a lot of responsibilities and obligations, which a reputable commercial cleaning business is aware of. They have to be concerned not only with the facility itself, but also with the people's satisfaction, the upkeep of the property, and its safety. They need to make sure that everything and the entire area is perfectly clean and tidy through routine commercial cleaning services.
When you hire commercial cleaning services in Greenville, SC, you must look for these top three most crucial and in-demand commercial cleaning services for your facility:
Routine janitorial services
Day porter services
Floor cleaning and maintenance.
Continue reading to learn more about each service and how a reputable commercial cleaning business helps property managers in maintaining the cleanliness, safety, and happiness of their rental properties and tenants.
Routine janitorial services
For any sizable commercial property with physical stores, routine janitorial services are a must. When the staff and clients are away for the evening, our janitors will clean the facility. This relieves the property managers of one concern during their hectic days. A firm must ensure that its common areas are cleaned every day. For these spaces to be clean and presentable for both staff and customers, daily commercial cleaning services are essential.
Day porter services
Day porter services are yet another crucial item that property managers ought to take into account. There are always messes and upkeep that need to be done, even though routine janitorial services will have your office pristine by the start of business each day. Day porters assist commercial properties during business hours with tasks including garbage collection and stocking common areas.
Day porters relieve renters and employees of the responsibility of maintaining the property so they can concentrate on their jobs. Additionally, it protects property managers from tiny messes growing into larger ones if they aren't promptly or effectively cleaned up.
Floor cleaning and maintenance
For any commercial facility, but especially those with high-traffic areas, floor care upkeep is crucial. It's important to make a good first impression, so make sure your lobby or common space does that. Regular floor care maintenance not only ensures that your property looks its best, but it also increases the lifespan of your flooring and can ultimately save property managers money.
One of the most crucial, yet sometimes disregarded, commercial cleaning services that property managers require is floor care maintenance. The everyday damage that a property's flooring receive makes it crucial to maintain them in order to increase its lifespan and avoid accidents.
The most significant influence on the cleanliness and security of a commercial property is exerted by these three services. In corporate office buildings and commercial facilities, it's simple to underestimate how much daily use and damage a property endures. A commercial building can rapidly start to look dingy and everything can break down without regular cleaning and constant maintenance.