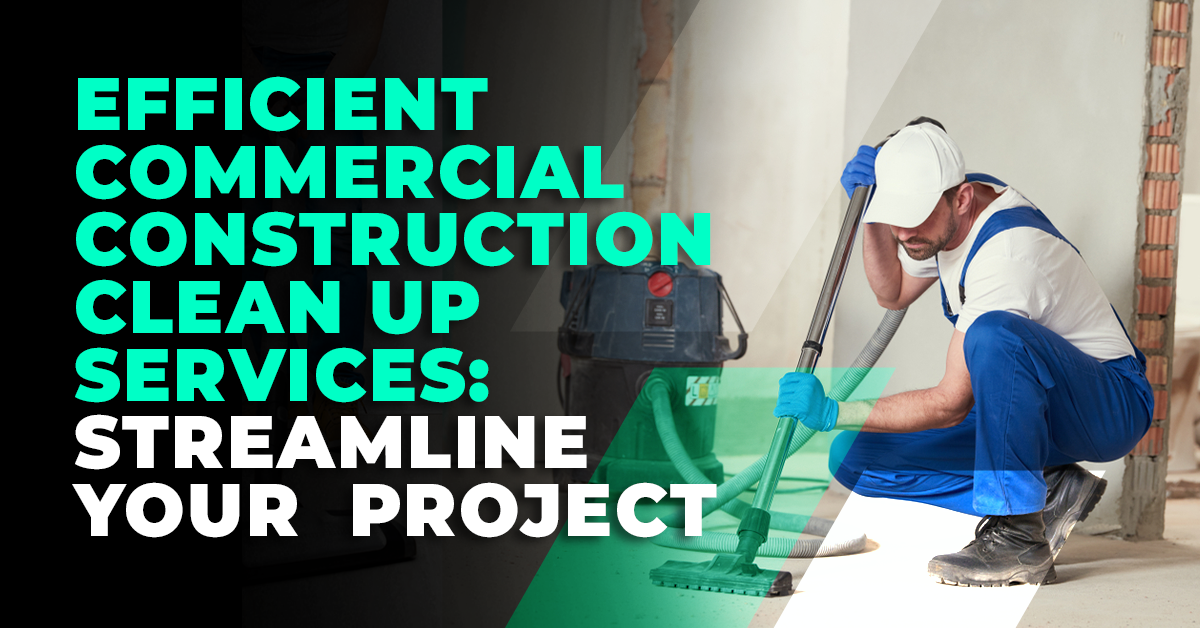 Efficient Commercial Construction Clean-up Services: Streamline Your Project
The clean-up process is one area where many commercial construction projects can fall short. In fact, according to a recent study by the National Safety Council, slips, trips, and falls are the second leading cause of workplace injuries in the construction industry, and debris and clutter are significant contributors to these accidents.
Dealing with trash and waste might be time-consuming and expensive, using up resources that would be better used on other project-related tasks. However, there are techniques to speed up the cleanup procedure and increase the productivity of your commercial building projects.
And in this blog post, we will explore the latest industry best practices and technologies for efficient commercial clean-up services. So, let's dive in and learn how to streamline your commercial construction clean-up with efficient services.
Understanding Commercial Construction Clean-Up Services
When it comes to commercial construction, cleaning up after the project is complete is crucial for building maintenance and reputation management but is often overlooked. While it may not be as glamorous as building the structure, it's just as important for safety regulations, productivity, and appearance. 
Commercial construction clean-up services involve the removal of debris, waste, and equipment from the post-construction site management, including everything from cleaning up after demolition work to removing excess materials and equipment once the project is finished.
Hiring a professional cleaning company for this task is smart because they have the expertise, tools, and equipment needed to handle the clean-up process safely and efficiently. They have the knowledge and skills to recognize possible dangers, such as sharp items or dangerous materials, and to take the appropriate safety measures to protect everyone working on the job site.
There are numerous benefits to commercial construction clean-up services, including –
It reduces the risk of workplace accidents and injuries.
Improve productivity by making it easier for workers to access the necessary equipment.
Leave a positive impression on clients, investors, and other stakeholders.
Therefore, pay attention to the significance of clean-up services, even if it may not be the most exciting stage of the development process. By hiring a professional cleaning company, you can focus on other important aspects of the project while they handle the clean-up process quickly, efficiently, and safely.
Best Practices for Efficient Commercial Construction Clean UP
Achieving efficient and effective, and sustainable cleaning requires a detailed plan, appropriate tools and equipment, and a commitment to following best practices. Here are some tips for streamlining your clean-up process and avoiding costly mistakes:
A comprehensive strategy defining the task's scope, completion dates, and resource requirements should be in place before the cleanup process is started. As a result, it will be simpler to ensure that everyone involved in the project is on the same page and that the cleanup is completed swiftly and efficiently.
Use appropriate cleaning equipment and supplies
The efficacy and efficiency of your clean-up procedure can significantly increase with the use of the appropriate tools and machinery. For example, heavy-duty vacuums, pressure washers, and air scrubbers often remove dust and debris from construction sites.
Safety should always be a top priority for commercial construction clean-up. Ensure that everyone working on the clean-up process has received sufficient training on safety practices and is adhering to them.
Monitor progress and adjust the plan as needed

 
Regular monitoring and evaluation of the clean-up process help identify areas where improvements can be made. Be prepared to adjust the plan as needed to ensure the clean-up process stays on track and meets the desired outcomes.
The Role of Professional Cleaners in Streamlining Your Project
Hiring a professional cleaning company can be a great step for industrial cleaning or construction clean-up projects of all sizes. These companies specialize in providing efficient and effective clean-up services, helping streamline the project, and ensuring it stays on schedule and within budget.
Here are some ways that a professional cleaning company can help make your clean-up process more efficient:
Expertise and experience:

Professional cleaners have the expertise and experience to handle all types of construction waste and debris. They are capable of using the appropriate tools and equipment in a secure and efficient manner.
Time savings:

Cleaning up a construction site can be time-consuming and labor-intensive. Employing a cleaning service can free up your time and resources so you can concentrate on other crucial areas of the project.
Cost savings:

Professional cleaners can help you save money by reducing the time and resources needed for clean-up. They can also help prevent accidents and injuries that lead to costly delays and legal issues.
Compliance with regulations:

Professional cleaning companies are knowledgeable about local, state, and federal regulations related to construction waste disposal. They can help ensure your project complies with these regulations, avoiding potential fines and penalties.
When you partner with a professional cleaning company, you are also benefiting from their expertise in construction site management. You can relax knowing that your building site will be secure, well-kept, and prepared for the following stage of work. This can help you stay on track and on budget, ensuring your project succeeds from start to finish.
Wrapping Up
An efficient commercial construction clean-up service is necessary for any successful construction project management. Following the best practices discussed in this blog post can save time and money while keeping your site clean and safe.
However, to achieve the most efficient and effective results, hiring a professional cleaning company is necessary to ensure a proper cleaning checklist. So, if you are looking for an expert, you can rely on "Spotless Magic World." 
We have been in the cleaning industry for years. Our skilled cleaners use advanced equipment and materials to ensure your project is clean and free from hazards. We offer excellent clean-up services to ensure customer satisfaction by helping achieve project goals faster and more efficiently.
FAQs
Q. Can I Do the Clean UP Myself, or Should I Hire a Professional Cleaning Company?
If you're wondering whether to do commercial construction clean-up yourself or hire a professional cleaning company like Spotless Magic World, the latter is the better choice for several reasons. Professional cleaners have the knowledge, expertise, and specialized equipment to ensure efficient, effective, and safe clean-up. Hiring a professional cleaning company can also save you time and cost while achieving a higher level of cleanliness and sanitation.