Differences between Commercial Cleaning and Janitorial Cleaning Services
If you run a business, you understand how crucial it is to keep your workspace clean and organized. Whether you operate in an office building, warehouse, or retail store, the state of your workplace significantly impacts the impression that people have of your company.
Keeping your workspace clean is not only necessary for the growth of your business, but also it helps improve your employees' performances. However, when it comes to choosing a cleaning service, people often can't seem to differentiate between janitorial and commercial cleaning services.
You might be asking yourself, "what are janitorial services, and how can it help me?" In this article, we will dive deeper into the main differences between commercial cleaning and janitorial cleaning services to help you make an informed decision on which services will be the best option for your office space.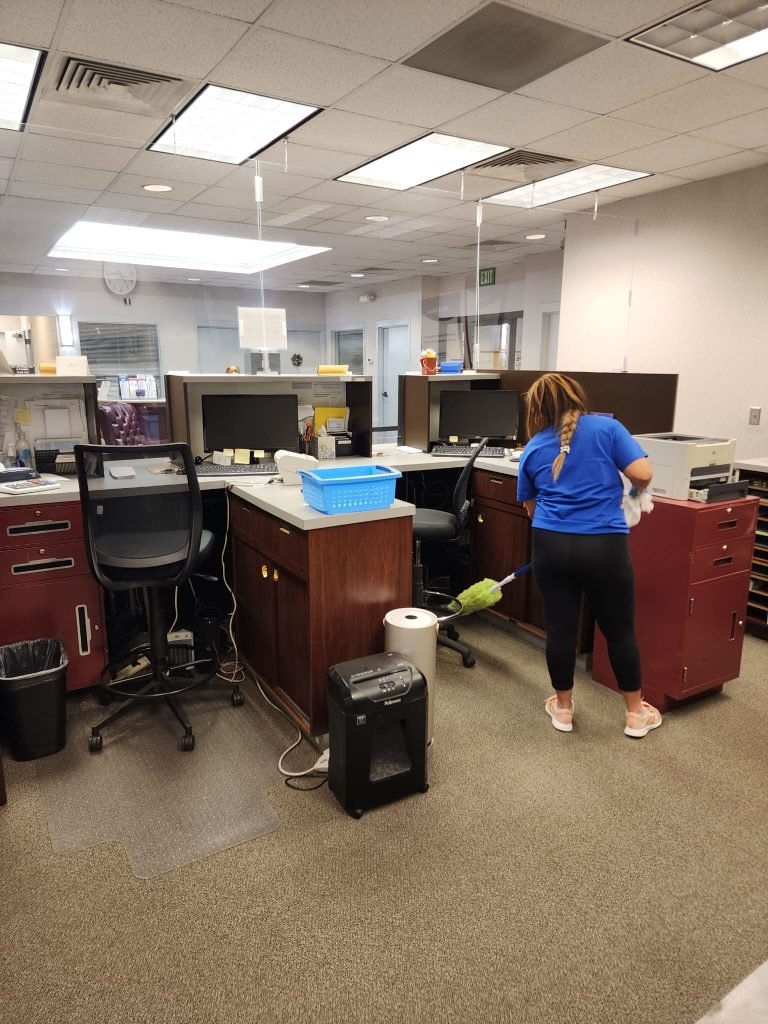 What Are Janitorial Services?
Janitorial services are a type of cleaning generally used in a professional office and other commercialized settings. This type of cleaning service is best equipped to keep buildings looking neat on a day-to-day basis.
This service is an excellent way to maintain appearances and ensures that your office or retail space is always welcoming for customers and business associates.
What Does Janitorial Work Consist of?
Although the specific duties depend on the type of business space they service, some basic cleaning tasks are usually associated with janitorial service like the following–
Floor Sweeping and Mopping
Carpet Vacuuming
Window and Mirror Cleaning
Furniture Dusting
Cleaning Toilets
Replenishing Supplies Such As Soap and Toilet Paper for Restrooms
Changing Lightbulbs
Bathroom Cleaning
Trash Removal
What Is a Commercial Cleaning Service?
Commercial cleaning services cover larger cleaning jobs that don't need to be done regularly. It is the process of using specialized technology and professionally trained cleaners to clean commercial buildings.
As it is a one-off job, commercial cleaning services aren't required more than a few times per year.
Before hiring this service, it is a prerequisite to know which large cleaning projects are necessary for your commercial space and what cleaning services they usually provide. Some of the notable services they offer are as follows –
Hospital and Medical Facilities
Offices
Carpet Cleaning
Tile and Grout Cleaning
Schools and Other Academic Institutions
Hard Surface Floor Cleaning
Window Washing
Furniture and Upholstery Cleaning
Critical Environment Specialty Cleaning
Power Washing
What Are the Differences between Commercial Cleaning and Janitorial Services?
Although the terms "janitorial service" and "cleaning service" are often used interchangeably by most businesses, there are several distinctions to be aware of before you hire them to handle your workspace.
Cleaning services can take many forms, which can range from basic maintenance to commercial custodial services.
While commercial services usually take on larger tasks using heavy-duty equipment and trained professionals, janitorial services manage daily chores to upkeep an office space.
Side by Side Comparison of Commercial and Janitorial Cleaning Services
| | |
| --- | --- |
| Janitorial Cleaning Services | Commercial Cleaning Services |
| Handles frequent yet minor cleaning tasks | Handles thorough cleaning that requires industrial equipment |
| Supplements in-house cleaning staff on a full-time premise | Outsource third-party cleaners to fulfill your needs for fixed packages |
| Maintains cleanliness on your premises 24/7 | Functions under contract by appointment, only a few times a year |
| Doesn't always provide commercial cleaning | Provides janitorial services at a lower cost |
Choosing between Commercial Cleaning Services and Janitorial Services
When it comes to finding exemplary service for your office or other commercial space, there are a few aspects to take into account before deciding which type of cleaning service is right for you.
Here are a few tips you can follow before you start your hiring process –
If you want to upkeep your small business space on a regular basis to impress your customers, then janitorial services will do the trick.
When you need to deep-clean your large office before an important event or meeting, go for commercial cleaning services.
Be sure to notice the years of experience, quality of service, and package rates.
Ask for references from past clients and compare all your options.
Key Takeaways
The main difference between the two types of cleaning services depends on the activities and chores they involve. Janitorial cleaners can manage small everyday cleaning tasks much better than commercial cleaners that focus mainly on deep cleanings.
During the pandemic, customers and employees expect new levels of cleanliness, which includes the white glove treatment to remove germs and bacteria before they get a chance to build up. So, before you hire professionals to clean your office building, follow our tips to find out which type is right for you.